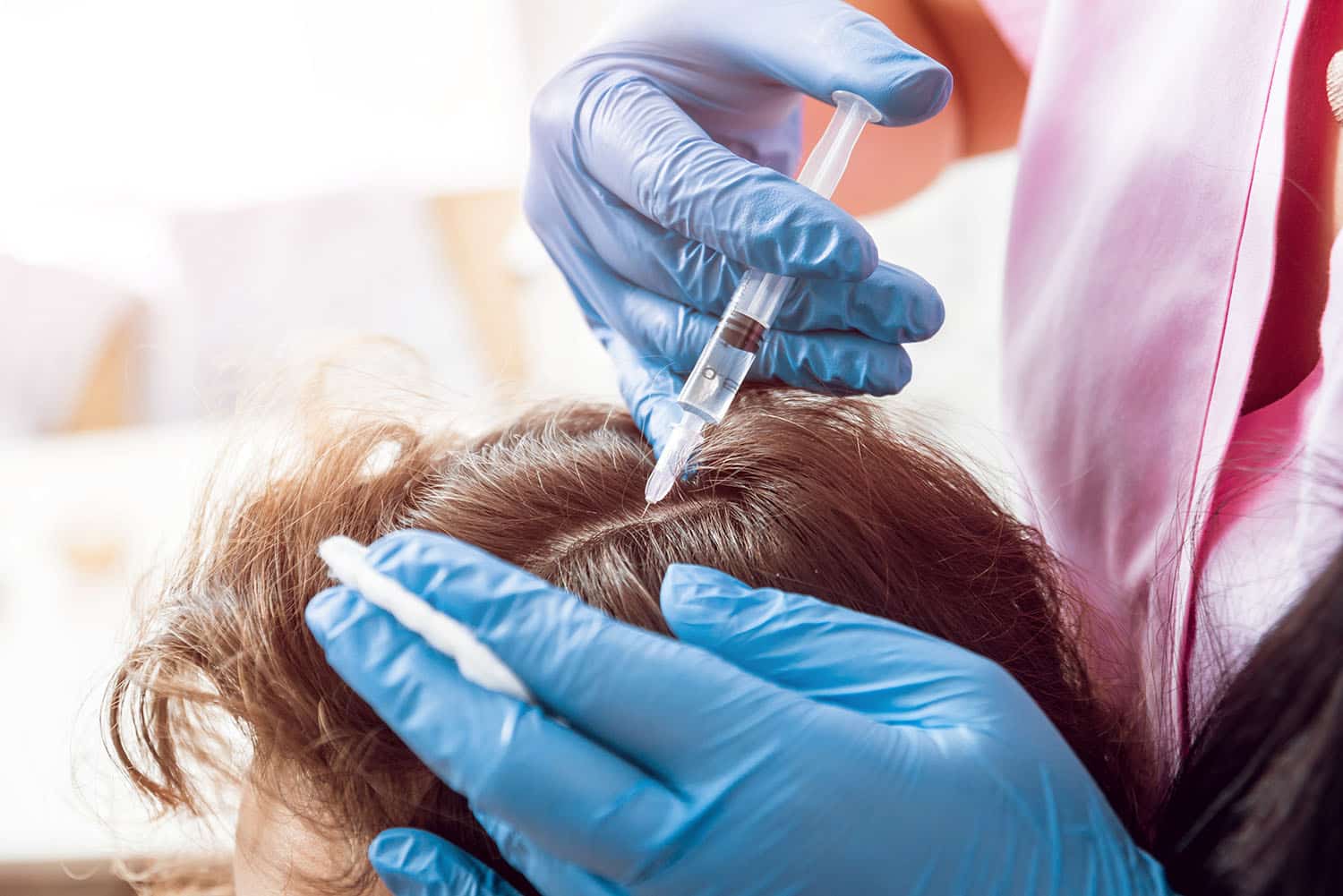 Treating Hair Loss with Stem Cell & PRP Therapy
Platelet-rich plasma (PRP) therapy has been known for years to be a viable and strong treatment option for a variety of orthopedic conditions. PRP contains growth factors, meaning it can stimulate the regeneration of cells. In recent years, trials have been conducted to measure the efficacy of PRP therapy as a treatment option for hair loss.
In 2015, Stem Cells Translational Medicine released an article on the usage of platelet-rich plasma injections to the scalp and the resulting hair growth measured against a placebo subject control factor. They found that PRP therapy could effectively stimulate follicular and perifollicular angiogenesis. This means PRP therapy stimulates one of the major factors in active hair growth. Additionally, PRP therapy during this trial was found to have a positive impact on male androgenic alopecia (male pattern baldness) without any major side effects.
Mesenchymal allograft stem cells have been a hot topic in the medical community due to their ability to differentiate and take on the functions of multiple cell types. As a regenerative medicine treatment, they may be effective in treating a variety of conditions. Recently, doctors have begun to use allograft stem cell therapy in hair loss. The results have been outstanding.
In studies, the Korean Journal of Physiology and Pharmacology found that human umbilical cord blood mesenchymal stem cells (hUCB-MSCs) can promote hair growth. Similarly to PRP therapy, growth factors were a strong factor in the success of the treatment. Stem Cells LA uses mesenchymal allograft stem cells derived from umbilical cord donors.
Professional and innovative doctors, like Dr. McCoy Moretz of Stem Cells LA, have been using allograft stem cell-infused PRP injections directly to the scalp to promote hair growth. By combining the growth factors and regenerative properties of both treatments, allograft stem cell-infused PRP therapy uses the best of both worlds to provide an innovative and effective treatment option for hair loss.
To learn more about allograft stem cell infused PRP therapy, contact us today or book an appointment on our calendar!
Allograft Stem Cell & PRP Therapy
Book an Appointment with Stem Cells LA Today
Stem Cells LA is the best choice for allograft stem cell therapy in Los Angeles. We utilize treatments of up to 30 million heterogeneous umbilical cord allograft stem cells including mesenchymal stem cells (MSCs) for conditions including autoimmune disease, heart disease, orthopedic disease, neurological disease, urologic disease, erectile dysfunction and antiaging. We even use the restorative properties of allograft stem cell treatments to help reduce healing time from procedures such as hair transplants and now offer allograft stem cell therapy for neuropathy, arthritis and hair loss with allograft stem cell-infused PRP therapy. Only a doctor can help you decide if allograft stem cell and/or PRP treatments are right for you.
To book a consultation with Stem Cells LA, call us today at 310-281-6160. You may also fill out the contact form at the bottom of our website.
Sources:
National Center for Biotechnology Information – Stem Cells Translational Medicine
https://www.ncbi.nlm.nih.gov/pmc/articles/PMC4622412/
National Center for Biotechnology Information – Korean Journal of Physiology & Pharmacology
https://www.ncbi.nlm.nih.gov/pmc/articles/PMC6115345/